Downspout Machines
Features
---
Frame Construction: The frame construction is a weldment of structural steel welded into a rigid frame. The frame is machined to provide a true plane for the assembly of the forming stations. Adjustable feet are provided enabling the machine to be set perfectly level.
Forming Stations: All the forming rolls coming into contact with the painted surface of the conductor pipe are hard chrome plated to insure long roll life and protect the finish on the pipe.
Best Drive in the Industry: All the stations of the machines are driving stations, top and bottom. They are all spring loaded which creates a constant load on the material. The springs make our gutter machines the most versatile on the market allowing you to run different material with virtually no adjustments.
End Crimper
---
An inline automatic crimping mechanism is provided. The crimper can be engaged or disengaged at will in less than 2 minutes. This is a useful feature when running blanks to make elbows. Grover also offers stand alone crimpers, pneumatically powered as well as expanders for round downspouts.
Automatic Control
---
The machine can be provided with manual controls or fully automatic controls. Our automatic machines are equipped with the Grover Smart Digital Panel. You can run as many as 5 different jobs and the machine will run them automatically. The machine counts and runs preset quantities automatically. Length control is through an electronic measuring counter. The operator can program the length and the number of pieces to be run. When the operator presses the «START» button, the machine will run the pre-programmed length, stop, cut and restart. This cycle will automatically repeat until the «STOP» button is pressed or the pre-programmed number of pieces has been run. The operation of our downspout machine is very efficient.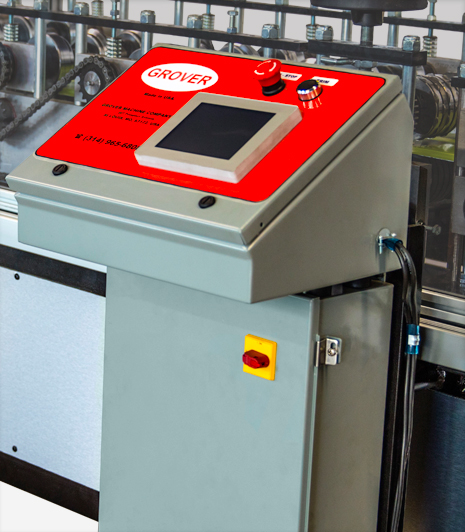 Additional Features
---
Air Clutch and Brake Drive: The use of an air clutch and brake enables the drive motor to run continuously. This is essential when making short pieces for producing elbows.
The Cutting Method: The Grover proprietary exit shear provides several advantages over alternative cutoff methods. It makes a quick, clean cut that is burr-free, and without the flying chips that come from saw cuts. The exit shear is pneumatically driven and the blade movement is controlled by a cam. The blade goes around the downspout and does not pinch the corners. The Grover exit shear does not generate any scrap of material. Saw chips could foul electrical switches and blowback into the machine and stick to the driving rollers causing indentations in the finished downspout. With the Grover exit shear, these problems are overcome. You end up with a straight, sheared end on your downspout that cannot be achieved by another cutting method.
Versatile: The Grover exit shear will also enable you to cut steel downspout. Since steel cannot be sawed except by an extremely slow-moving blade such as band saw, the exit shear is the only practical way to cut short pieces (elbow blanks for example) at your machine.Whether you are running steel or aluminum, the Grover exit shear will give you more efficient production, a cleaner work environment, and a higher quality, more sellable products for years to come.
Safe: The exit shear makes a lot less noise than a regular saw. It is totally enclosed and the operator cannot get cut with the exit shear.
Wide Randge of Material: With a Grover downspout machine you can run and cut downspouts from .017" thick aluminum up to 22 gauge steel.
Pipe For All Styles: rectangular, round, square, corrugated.
Range of Choices: Whether you need downspout for a traditional home, an apartment complex, an elegant home, a barn or a commercial building, Grover offers a wide choice to satisfy all of your needs.
Powder Coated Finish: Powder coated surfaces are more resistant to chipping, scratching, fading and wearing than other finishes.
Outstanding Customer Service